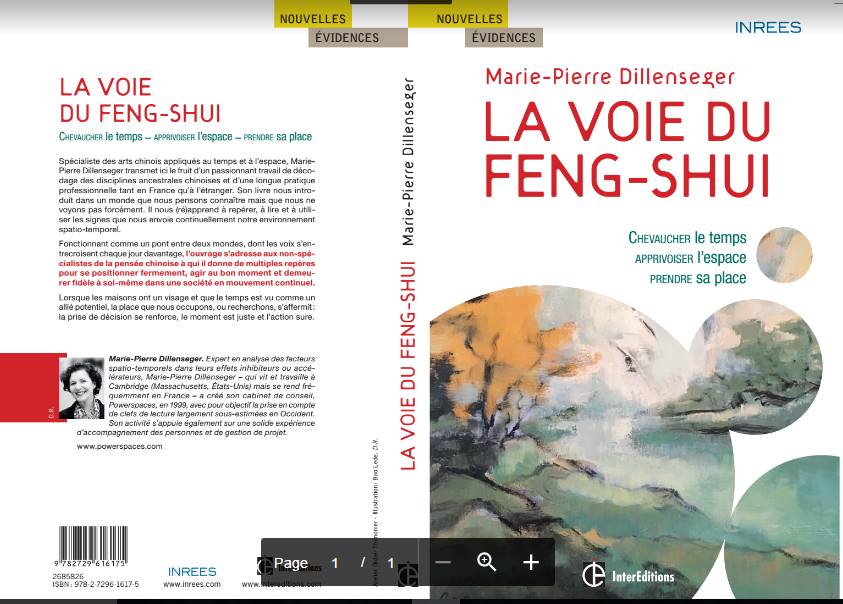 La Voie du Feng Shui: Chevaucher le temps, Apprivoiser l'espace, Trouver sa place. Paris: InterEditions, 2016.
Multiple Reprints. English translation available directly from M-P Dillenseger. Other foreign rights, click here.
Check Articles and Book Reviews
Articles and Collective works
---
Tirer partie du confinement. Happinez.fr, April 14, 2020
Le confinement, on change tout? Mars 2020, Leroy Merlin Source
Rendre limpide l'obscur. Feb 2020, MTC.Mag (Trad Chinese Medicine Journal. France)
Le role des ancêtres dans le décodage énergétique chinois, Winter 2019, MTC.Mag. 
Les espaces intermédiaires: éclairage du Feng Shui classique (page 19/43), in Les espaces intermédiaires, les sas, les seuils by Elian Djaoui, Leroy Merlin Source, March 2016.
Décryptage d'un monde en mouvement in Tout est encore possible. Manifeste pour un optimisme réaliste. Paris: Solar/Inrees, jan 2016
Carnet de Bord in Le Mook @ Ambiances chez soi, Paris: Autrement & Leroy-Merlin, Nov 2010
La Feng Shui attitude in Le Mook @ Habiter autrement, Paris: Autrement, Oct 2009
Bien chez moi: 10 Conseils in 1500 Gestes et Astuces pour soi de F. Réveillet, Ed Femme Actuelle, Nov 2008
Les Principes du Feng Shui in Faire le Bio-Bilan de sa maison, Eyrolles, April 2008
Et si on mettait les Boussoles à l'heure? Generation Tao - No 32 Spring 2004
New-York Public Library in Nouvelles Alexandries. Les grands chantiers de bibliothèque dans le monde. Paris: Cercle de la Librairie, 1996
As Subject matter expert
---
La Grande Dame of Cannabis tells her story by Michka. Paris: MamaEditions, Dec. 2019
Le Complexe d'Icare (Vaincre le burn-out) by Olivier Lombard. Paris: Flammarion, Sept. 2019
Coloc Bio: pour une cohabitation éco-responsable by Vincent Ravelec. Paris: Mama Editions, Juin 2019
La contagion émotionnelle by Christophe Haag. Paris: Albin Michel, Mars 2019
Une vision chinoise de l'invisible by Jean-Pierre De Leck. Paris: Pacifica, Juin 2018
Lorsque j'étais quelqu'un d'autre by Stéphane Allix. Paris: Mama Editions, Oct 2017
Un Bébé, enfin! De l'infertilité à la maternité by Réjane Ereau. Paris: Guy Trédaniel, Nov 2016
Qui sont les Anges Guardiens? by Samuel Socquet & Stéphane Allix, Paris: Ed La Martinière, Nov 2015
Les Guérisseurs de l'Habitat by Audrey Mouge. Paris: Ed La Martinière, Sept. 2013