Marie-Pierre Dillenseger was an early student of Master Yu (FSRC, Toronto, 1997). She introduced his teaching in Europe, organizing, translating and training all students for his Paris seminars (2001-2006). She created de facto Feng Shui Research Center in France (FSRC France™) which she led until 2010, providing a path to FSRC certification (8 days program) for French speaking students.
Advanced seminars included Xuan Kong Feng Shui (Flying stars), Water Methods, Business Feng Shui, Date selection, Bazi (based on solar calendar), Zi Wei Dou Shu (based on lunar calendar), Plum Blossom Divination and Yi Jing (Wen Wan Gua method).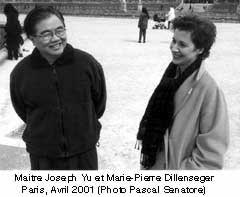 Prior to creating FSRC France, she designed and taught a comprehensive 26-day professional training curriculum on Chinese global and analogical thinking.  She has regularly taught with practitioners of Healing and Chinese Arts: David Tran (Reflexology, Paris), Rudy Lanza (Naturopathy, Turino, Italy), Thierry Gautier, JF Dubois (Geomancy, Dowsing, Divine Proportions), Cyrille Javary (Yi Jing), M. Jacquard (Chinese Medicine) and College S.F.E.R.E. (Chinese Healing Arts).
Since 2010, she has disengaged herself from the responsibility of managing the network of practitioners. She remains available for specific and advanced Interpretation seminars (FS and Bazi) as well as Supervision courses.