Marie-Pierre Dillenseger was one of the early students of Master Yu (FSRC, Toronto, 1997). She created the Feng Shui Research Center in France (FSRC France™) in 1999 and introduced Master Yu's teaching in Europe, organizing and translating all his seminars in Paris for many years.
Advanced seminars included Xuan Kong Feng Shui (Flying stars), Water Methods, Business Feng Shui, Date selection, Bazi (based on solar calendar), Zi Wei Dou Shu (based on lunar calendar), Plum Blossom Divination and Yi Jing (Wen Wan Gua method).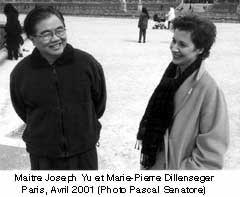 Her own comprehensive 26-day professional training curriculum on Chinese global and analogical thinking integrated Master Yu's FSRC correspondance courses and FSRC  Modules (8 days) in 2003. This move provided a path to FSRC certification for French speaking students.
Below are those who met FSRC requirements at the end of the curriculum. To inquire about their current practitioner's status and expertise, please check with the FSRC directly.  
2003

Marie Boyer
Maryse Bracco
Christine Giles
Denise Saugne
Robert Saugne

2004

Francoise Bouzon
Alba Gentile
Brigitte Jegouzo-Joly
Beatrice Philippart
Francoise Lambert
www.fengshui-classique.com
Stephanie Lechevalier
Stephanie Leefers
Isabella Obrist
Francesco Rossena
Silvia Sacchi
www.timespace.it
Corinne Saillant
Xavier Souhi

2005

2006

2012

2007

Damien Bougreau
Martine Brown
Valérie Dupuy
Laurence Gloux
Marine Ho-Hoang

2008

2009

2010

Marie Belville
Pascale Bioulac
Laure Boisseau
Olivia Busson
Emmanuelle Chatillon
Valérie Chéron
Valérie Corre
Caroline Degrenne
www.carolinedegrenne.fr
Valérie Delhaye
Jean-Luc Faveaux
Sandrine Hanin
www.art-chi.com
Patricia Krieff
Michael Lacroix
Patricia-Joelle Questel
Valérie Rouiller-Roche
www.satche.com
Catherine Thibault
Christine Vial
Daniel Ville
Laurence Vital Durand
Mario Vitale